Miller's Heating is a Vancouver, WA based HVAC company that has been in business since 1947. Ten years ago Miller's joined the One Hour  Franchise. Last year they made the decision to leave the franchise and needed complete rebranding of their company and all their marketing materials. They had to completely redefine themselves.
Miller's Heating for ten years had been known as Miller's One Hour Heating. Their website, logo, marketing brochures and fleet of service trucks were all clearly branded One Hour. The agreement with the franchisor required a 1 year notice to exit their agreement so we had time to plan and execute the rebranding.
Business Name: Prior to the franchise they were known as Miller's Heating, Air Conditioning, Refrigeration, Inc. They decided to shorten the name to Miller's Heating & Air. They decided to use their old website domain millersheating.com which they had kept, but not used for many years.
Logo: Creating a new logo was the first step in recreating their corporate identity. We decided to keep similar logo colors to keep some continuity with their current customer base, but still create a look that was unique and memorable that emphasized the Miller's brand. A new tagline was created using a crowd sourcing website which gave us over 1000 unique taglines to choose from.

Website: Our next step after the logo was to create a new lead generation website that focused on customer education that included a wealth of product information. SEO and PPC traffic strategies were planned where the PPC could increase the lead generation during the slow months. The new site was up and operating 12 months before the changeover to allow time to build up search rankings.
Email addresses were switched over 6 months before the changeover to make sure there was no loss in communications with clients and vendors.
Business cards were printed and issued 6 months before the cut-over.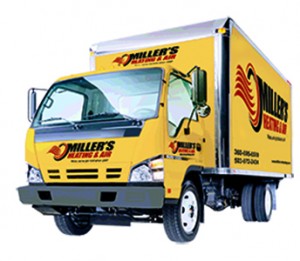 We still have 2 months until the cut-over and we are changing over vehicle graphics, building signs, new marketing collateral are being printed, building signs are being changed, hats and uniforms are being purchased.
Everything will be complete prior to the End of year official cut-over. The nice thing is we had the luxury of time to make sure all preparations were made and plans were executed smoothly.