Blog Marketing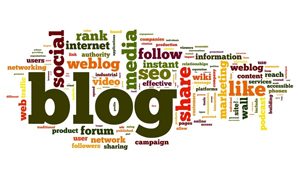 Blog marketing is both a SEO tool and a way to reach potential clients. Blogs are a powerful way for businesses to reach and interact with potential customers. Blog marketing is an educational based marketing where you share your opinions, your expertise and your advice. Blogs are not about selling; they are for branding and interacting. Blogs work best when they are actually part of your website. Blog marketing gives businesses other tangible results.
Blogs build your brand awareness and build you as an authority in your market. Blogs build rapport with your audience and build a relationship of trust. This makes you the natural person they seek for help. The job of your blog is to attract readers. In addition, blogs are a natural link magnet that attracts inbound links if you write interesting, original and engaging posts. Bloggers will then carry these conversations back to their own blogs and of course they will reference your blog posting with a back link. Businesses that blog get more website traffic, more inbound links to their website and have more indexed pages on their website. This is according to a Hubspot study. All these are powerful indicators of a successful business website.
SEO Blogging Technique
SEO blogging requires keyword focused writing. It requires writing interesting and original material to attract links from other bloggers. Blogs are a great way to create this relevance of website themes. This uses a technique that I call SEO blogging. Your blog should be part of your website for this to work. You should have a keyword list that covers the topics your website is about. Each blog post should be focused on a single keyword phrase. Decide on an interesting topic you want to write about and then select a keyword phrase from your keyword list. You will want to use the keyword 3 times in each blog posting. Use the keyword phrase once in the blog Title (main headline), once in the first paragraph and once later in the posting. Hyperlink the third usage of the keyword phrase to the most relevant page on your website. This link creates an association that tells the search engines that the page on your website is about that keyword phrase.