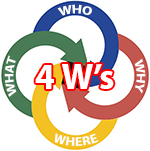 Internet marketing is much more about marketing than technology. It is much more about the "why" than the "how." Internet marketing very much follows the principals of traditional marketing, but at a much shorter timeline. The focus is on buyer psychology, understanding their needs and then connecting with your customer.
The 4 W's of Internet marketing are really the four facets that you need to look at as you go through the marketing process.
Four W's of Internet Marketing
Who are you trying to reach?  This is your customer; actually you want to look at your best buyer. Identify who you most want to attract to your website. Tune your website to focus on your best customers. You do this by creating a behavioral profile of your best buyer. Behavior is considered the best way to predict future actions,
Why do they need what you are selling? This is the reason, the motivation that they need what you are selling. What specifically are they expecting you to help them with? Create a focused message that answers the needs of your best buyer. You need to grab their attention, show them you offer what they are searching for and then build their interest.
What do you want them to do?  A business website should be designed with a specific goal in mind. There should be a clear action that you want your visitor to take. This could be to buy, to request more information or to request a quote. Guide your prospects through a well thought out selling sequence. Clearly define what success is with the first time visitor to your site.
Where are they going to find you? You need a traffic strategy that brings interested prospects to your website.  This could be organic SEO or paid search, either way they are based on keywords. Carefully select the keyword phrase you optimize your website for. Choose phrases that best match your targeted buyer.
As you plan how you will interact with visitors, think about how you will build trust and confidence. Think about what problem you are helping your visitors solve. Think about how you will become the obvious choice to do business with.