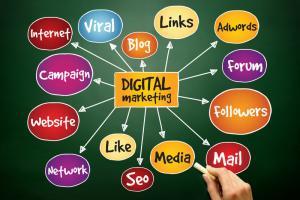 One of the best ways to ensure that your various digital marketing efforts all pay off is to employ an integrated digital marketing strategy that utilizes all of them in unison.

Nowadays, there are so many channels through which you can deploy your marketing campaigns. But when you use these channels against each other, your digital marketing strategy becomes chaotic and not so effective.
Introduction to Integrated Digital Marketing
On the flip side, when you tie these channels together and use one to back another up, you optimize your digital marketing campaign and make your business or brand more discoverable, no matter which channel the customer is searching on.

An integrated digital marketing strategy allows you to draw potential customers to your online store, blog, or business website from all the different channels you use for your digital marketing campaign.
Once your potential customers have found their way to your website, they can purchase a product or a service or, at the very least, they can derive some value from your content and become a follower.

According to the experts, integrated digital marketing should start with your website. This, they say, remains the most important channel through which you can attract potential paying customers.
Why is your website so important for your integrated digital marketing plan?
First, it's yours. You have complete control over your website and can publish whatever and whenever.

Second, you build your reputation as an expert in your niche through your website. This is where you keep most of your content, including blogs, videos, reviews, and other important information. Your social media accounts may help you grab people's attention, but the website is where you keep and showcase your best work.

Third, your website is where you implement your SEO strategy to help your business get discovered. Lastly, your website is where you will find all the backlinks that help establish your website as a credible source.