Digital Marketing Strategy
Digital Marketing Strategy
Building your digital marketing strategy is much like putting together a puzzle. There are major pieces that must be there for your website strategy to work. A website strategist will form the pieces into a cohesive strategy.
Your website should bring in leads, build up your email list, close online sales and attract new clients. Your website achieves these results by design, not accidentally. Develop your web strategies and encourage visitors to take Action.
Guide your prospects through a well thought out selling sequence. Grab their attention, build their interest and then get them to take action. Your best selling sequence should be built into your website.
Website Strategy Pyramid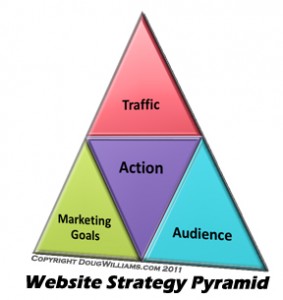 Marketing Goals: Your website, like your business needs to have a clear purpose with clear measurable results that you expect. Your website should reflect your marketing plan. It promotes your products and services. How will you position your company against your competition? Your website can brand you as a leader in your market or as the low cost provider.Decide the purpose for your website. Is it a lead generator? A selling machine? Does it collect email addresses? Create awareness for your brand? Customer service or tech support?
Audience: To connect, you need to completely understand your customer (or potential customer).
What are their demographics (age, education, sex, etc.)? What are their interests or "hot buttons." Design your website psychology around understanding their motivations. Are they a B2B or a B2C decision maker?. Do you understand why your visitor is coming to your site? What problem are they looking to solve? The goal is to present a website that clearly solves their issue. What triggers a buying decision? Who can make that decision?
You want to solve the core problem or need for your customer and then build a selling sequence to address their need. What happens when you have customers with very different needs? Then you would want to establish multiple selling paths.
Action: Create a solution to your visitor's problem. Make it visible, clear and compelling on your home page. Write content that appeals to your audience. Design a selling sequence with a clear path to action. Take the time to answer the unasked questions. Design trust elements into your website to lessen their fears and show that you are indeed a trustworthy solution.
It is hard to create a lasting impression in a single encounter. Devise a way to interact with visitors on an ongoing basis. Use opt-in newsletters or have an interactive blog on your site. Add social reviews to your products you sell. Add in online surveys, email marketing, links to subscribe to your Twitter, Facebook or your blog feed.
Traffic: Just because visitors are coming to your site does not mean they are qualified prospects. Use careful keyword selection to attract buyers rather than lookers.
Decide where your traffic is going to come from. This could be Paid ads such as Google Adwords, organic SEO, social media, email marketing or some other search engine marketing method. The important thing is to bring qualified and interested prospects to your website.
Contact us today to work with your web team to develop your website strategy plan.