Sales Funnel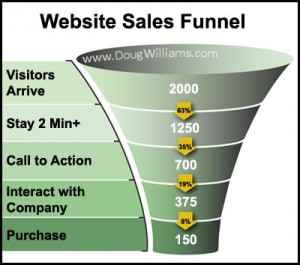 A business website should be designed with a specific goal in mind. There should be the final action that you want your visitor to take. This could be to buy, to request more information or to request a quote.
Guide your prospects through a well thought out selling sequence. Grab their attention, build their interest and then get them to take action. Your best selling sequence should be built into your website.
SEO may drive traffic to your website, but how do you improve your conversion rate? Conversion optimization is an art and a science. It offers methods for making changes to your website in order to improve conversion rates and ultimately your bottom line. A conversion can be any action that moves a visitor further down the conversion funnel, whether it's a phone call, filling out a form or even bookmarking a page.
The sales funnel is a metaphor. We can visualize the sales process which is wide at the top and narrow at the bottom. A large number of prospects will yield a much smaller number of sales. The website sales funnel describes the process your website visitors go through from the moment they arrive at the site until they fulfill your goal.
The sales funnel is a way to focus on your sales conversion as you make changes. Start by breaking your sales process down into steps or stages that each visitor who buys from you will pass thru. Increasing the flow at any step will increase your final sales numbers.
In the example above 8% of visitors who arrive at the website will end up buying. The number of people who buy can be increased in two ways.
Increase the number of visitors who arrive to the website.
Make improvements on your website and increase the percentage of people who buy.
Some website funnels have 2 steps, some 3 steps and others will have 4 steps from arrival to conversion. The fewer steps you use, the higher your conversion rate. Simpler products that are familiar to the visitor should use a 2 step conversion. More custom or higher priced products and services will normally use more conversion steps.
You want to solve the core problem or need for your customer and then build a selling sequence to address their need. What happens when you have customers with very different needs? Then you would want to establish multiple selling paths.
Let's suppose you are a flooring retailer that sells to residential consumers, residential building contractors and commercial accounts. You would have three different types of customers, each with different needs and buying criteria. You would want to develop three different sales funnels clearly visible on the home page. Each sales funnel addresses the needs, problems and concerns for each buying group.
The residential consumer may be after quality, service and quick installation. The building contractor may be looking for budget pricing and extreme flexibility for installation scheduling. The commercial accounts are looking for commercial quality and service contracts. By establishing a separate sales funnel for each, you can address the specific needs for a specific class of buyers.
Website statistics packages such as Google Analytics allow you to set-up a sales funnel to track this data automatically. This way you can make changes to your website and watch the impact. This allows you to change and refine your website conversion rate over time.