Techna Digital – My Story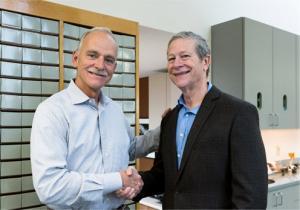 Most of you have probably experienced the uncertainty that occurs when your job situation falls apart.  I am Techna Digital and this is my story.
For me that occurred in 2001 when my dream occupation – running a contract electronics manufacturing company with three divisions and 600 employees – suddenly turned into a nightmare.  The recession of 2001 – 2002 hit us with full force and I had to downsize the operation to two plants with just 80 employee.  Even that was just a Band-Aid, and ownership began hinting about shutting the entire operation down.
Ever the optimist, my wife reminded me of a famous quotation attributed to Yogi Berra, the baseball player and later New York Yankee manager:  "When you come to a fork in the road, take it."
So I did.  Heeding Yogi's advice, I left the relative comfort of my corporate position and began Techna Digital & Associates, a small business consulting practice, emphasizing marketing and operational improvement.
A crucial component of my business plan was to have a strong online presence and I engaged a website designer to help put me on the digital map.
The initial effort was a disaster.  The "finished" site was loaded with coding errors and I quickly realized my designer had no clue whatsoever about Search Engine Optimization. From Google's perspective, we might as well have been in Siberia.  It was a good looking site, but was all but invisible to Google. As I wrestled with the problem (and the designer) the old observation of putting lipstick on a pig came frequently to mind.
Increasingly frustrated and getting nowhere, I fired my designer and took on the task myself.  With help from my tech savvy son and a lot of late night sessions, we were able to solve the coding problems, effectively connect the text with the search engines algorithms and finally found our site on Google's first page for many high traffic words and phrases.
New Techna Digital Direction
This led to a steady stream of new clients and things really began taking off.  Not surprisingly, many of my clients asked about help with their websites, and that spurred my entry into providing web marketing services.  Over time, Techna Digital & Associates was renamed Alesco Marketing and grew to 15 employees.  Over 90% of our focus was website development and SEO services with consulting for my small business clients retaining a much smaller but steady presence.
I am proud to say that our efforts were successful and attracted the recurring business of some very high profile clients such as the Tony Robbins group, Chet Holmes, and others.
The word got around and ITX, a New York based web services firm purchased Alesco Marketing in 2010 and, after a transition period, I left and started Techna Digital Marketing in 2013.
Gurus always advise us to select a profession that we enjoy and success will naturally follow. I've taken that advice… digital marketing and helping businesses grow are my passions.  I have written four books on the subjects, posted innumerable blogs and formed fantastic relationships with some of the savviest digital marketing experts on the planet … several of whom comprise my network of trusted partners.
By blending these elements with my business consulting expertise I have the daily pleasure of helping my clients grow and succeed in the digital marketing arena.