How to Write an About-Us Page
How to Write an About Us Page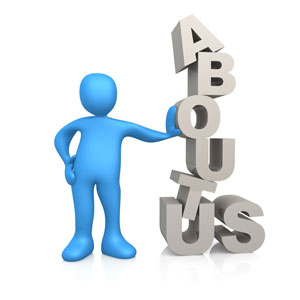 This is the website page that humanizes your business. Your About-Us page is there to build trust and credibility. Visitors want to know the business or the person behind the website. They want to know to know your story. They want to know how long you have been in business. They want to know if they should trust you.
Importance: How often do visitors read the about-us page? Based on analytics data of our clients, 2-35% of visitors will go to this page. It really depends on your type business. If you have a strong brand and your business is well known, fewer people will view it. Ecommerce sites tend to have a lower number of visitors reading the about-us. Attorney websites, physician websites and weight loss websites have the highest viewing rate at 25-35%.
The About Us page is a chance to cement a relationship and connect with someone who is curious about your business. They are there to learn about what you do.  They are looking for signs of trust and credibility. Let customers see the human side of your company. Show your personality.
Visitors will look to see if you are a real company with a physical address. Tell them a little about your company.  Instead of including a long history of your company, simply state when your company was founded and how long you have been serving your industry.
Tip – People enjoy reading the story on how a company got started and what led the founder to launch the business.
Describe how you are different and better than your competition. Share your company philosophies, awards and certifications. If you have important affiliations, this is the page to include them.
The About us page should be concise and easy to read. Its main purpose is to build trust with your visitor. People want to feel safe and secure before they buy from you or even give you their email address.
You can add a "Meet the Staff" page where you show short profiles on the key staff members. Include the key "movers and shakers" and key people that interact with customers.