14 Ways to Build Website Trust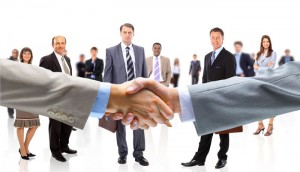 People arrive to your site suspicious and thinking "Can I trust these people?" A key element of web marketing is to inspire trust and show your business is credible and trustworthy. How do you do that in our current environment of distrust?The 2009 Edelman Trust Barometer measures the current levels of trust toward business.
Trust is at an all time low in the US with 77% of respondents (ages 25 to 64) distrusting businesses and corporations more now than they did just one year ago. It is no wonder with the government bailout of banks, American auto executives getting government hand outs and an Illinois governor being led away in handcuffs.
What are things you can do to build trust as you market your business on the web? Build a relationship with your visitor. A key strategy is to focus on education based marketing where your focus is on helping your clients be successful. Here are ways to implement this.
Website: This is often the first impression that someone sees of your company. The business website design should be industry appropriate, organized and focused on the visitor.
About-Us Page: This is the website page that humanizes your business. Your About-Us page is there to build trust and credibility. Visitors want to know the business or the person behind the website. They want to know to know your story. They want to know how long you have been in business.
Trust Logos: Show logos of well known companies that you are associated with. Build trust by association. This could include BBB, credentials you have or non-profits you support.
Contact Information: Show you are a real business by posting your phone number and physical address on every page of your website, not just on your contact page.
Blog: Blogging about tips, solutions to problems and "how to" advice brands you as the expert and builds a relationship of trust. Effective business blog marketing focuses on educating your target market.
Guarantee: People won't do something that puts them at risk. Show visitors that you are trustworthy. Show prospects there are no risks. Build trust at every step. Show your phone number and address. Post a guarantee. Have a no-risk returns policy.
Organic Search Results: Invest in organic SEO results for your website. A Penn state study shows that people trust organic search rankings over paid advertising. People trust the natural search results more than paid advertisements.
Privacy: Include a privacy policy clearly visible on your website if you collect any personal information such as email addresses. Never disclose email addresses to 3rd party companies.
Email Marketing: Permission based email marketing where you provide value and solutions to your targeted audience are welcomed. Always include an "opt out" mechanism so your prospect is in control.
Articles: Write informative articles that educate and inform people about something related to your business. The article should be purely educational with a link to your website in the resource box at the conclusion of the article.
Press Releases: Regular and informative press releases keep your company visible and familiar to your prospects. There are many "free" press release websites that can be used by businesses.
Webinars: Put on webinars for your prospects to help them understand and better make informed buying decisions. These brand you as the expert and are great for relationship building.
On Hold messaging: For prospects that call in, use on hold marketing to educate them about your company, new products and services and new promotions while they wait for you to come to the phone
Proposals: If you provide custom quotes for services or products, build a standardized proposal that includes background information and testimonials from actual clients. A professional and complete proposal sets you apart from your competition.